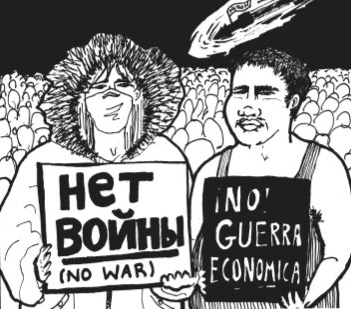 By Jesse D. Palmer and Tonerhead
As Slingshot goes to the printing press, war is raging in Ukraine and the senseless loss of life is horrible and should stop. The same applies to the numerous other wars and armed conflicts around the world that aren't being hyped in the media 24/7 because they don't involve white people and aren't happening in Europe or other prosperous areas — Algeria, Cameroon, Central African Republic, Chad, Columbia, Democratic Republic of Congo, Ethiopia, Iraq, Kenya, Kurdistan, Libya, Mali, Myanmar, Niger, Nigeria, Palestine, Philippines, Somalia, South Sudan, Sudan, Syria, Uganda, Venezuela, Western Sahara, Yemen…
It is awkward for Slingshot to publish articles about rapidly changing events, because our paper-based process is slow and there will be at least a month gap between when we write this and when you read it. Everything might change.
We can't just oppose Putin the warmonger — we have to oppose Biden, Trump, Xi, Boris Johnson and all the rest of them. And even more we need to overturn the system of hierarchy and nation states that make war possible in the first place. Imaginary lines on the map empower tiny groups of old men to make war. None of the combatants or civilians being killed have anything against each other — they just want to live.
Governments are not going to stop war since fear of attack from across the border is the biggest justification for having nation states. People have to stop war — by refusing to participate, refusing to pay for them and refusing to go along with the whole hierarchical system.
Wars are used by crumbling empires like a short-term sugar high to delay their decay by pumping up nationalism. You can see this in Russia and NATO right now. The leaders want regular people to pick a side and wave the flag, but this does not help the Ukrainian or the Russian human beings who are being killed. We can refuse to play the ruler's game because either way, the rulers end up winning and regular people end up paying the price.
NATO — built to fight the cold war which was itself absurd — lacked purpose after the Soviet Union collapsed. What better way to justify its own existence than needlessly escalating tension with Russia by expanding to nations from the old Soviet orbit — Poland, Romania, Bulgaria, Estonia, Latvia and Lithuania — and placing rockets in Poland and Romania? We are now paying the price for Western capitalist encouragement of privatization of Russia's economy after the USSR collapsed — which enriched oligarchs, encouraged authoritarian tendencies and failed to improve the lives of ordinary people. NATO supported borders, hierarchy and standing armies that celebrated the triumph over communism — and left a feeling of resentment and vulnerability in Russia. What a lost opportunity over the last 30 years to support human dignity and self-determination.
This is no excuse for Putin's invasion — the war isn't a simple result of NATO expansion or provocation. Now is not the time for activist-speak anti-imperialism that discounts the horror we can see with our own eyes unfolding in Ukraine just because the US has unleashed similar horror in Iraq, Afghanistan and elsewhere. We have to oppose war and state violence — rather than lecturing people who are having the correct emotional reaction to seeing people get blown up for no reason. Which isn't to discount the racism inherent in the way Ukrainian refugees are treated with compassion while Syrian or Iraqi refugees are systematically excluded from the Western democracies we are told are so urgent to defend.
War always makes authoritarianism and nationalism worse for everyone. In Russia, the crackdown on dissent and independent media is intense. The war and sanctions in some twisted ways strengthen Putin's power. The bravery of Russian anti-war protestors who are risking jail and worse is inspiring.
For us in the West, there's a risk of idolizing Ukrainians and dehumanizing Russians. Dehumanizing other people is what starts wars and keeps them going. The US media is filled with barely disguised propaganda — tear-jerking stories that veer into emotional manipulation. Hero worship is also dehumanizing. Meanwhile, the Russian troops dying are also victims — they didn't make this war. Their wives will be just as widowed, their children just as fatherless as the Ukrainians who are being killed. In the USA, the war is being used by both political parties to consolidate support and obedience. Dissidents everywhere unite!
Meanwhile, the arms merchants get rich like always. In the US, the biggest portion of taxes go for weapons when there's so many other pressing needs. Next in line are police and prisons that perpetuate the same forms of violence, hierarchy and control internally. Police seek to dominate along racial and class lines — encouraging divisions between regular people so we cannot unite against our rulers.
The military system and nation states rely on a self-destructing industrial and economic system of oil, alienated labor, ecological destruction and wealth concentration. To stop war, we're going to have to stop the everyday war on the earth. Unless the whole world changes quickly, climate change, wealth inequality and environmental collapse will cause more death and destruction world-wide than the Ukraine war.
Economic sanctions have mostly not included Russian oil and gas sales to Europe because keeping the oil flowing is more important than stopping the war to those in charge — oil is what keeps the whole rotten system going. You have to wonder if the leaders and nation states are really in control, or is it fossil fuels?
The war is being used to test and deploy slick internet thought-control techniques — both in the West and in Russia. It is easy to imagine fake news spread by elites fueling some form of civil war in the US. Now is the time to stop the slide towards violence by building bridges and connections between different kinds of regular people on a grassroots level. We need to talk to each other and seek understanding of what we have in common so we do not let those in power turn us against each other. Maybe seeing the televised horror in Ukraine war can help shift the narrative away from red state / blue state divisions and provide an opportunity to see that we're all in this together. We should not go down the path of killing.
War is part of life for millions of people all over the world. Here in the US, we're insulated from the terror and destruction, but many of our lives are filled with fear, incarceration, and scarcity. Elites tell us that this is peace, a fragile something to "protect" with war after war. But we know it's not. People have been opposing war and authority since the dawn of time. The struggle for a new world is a long haul. We don't have to stop caring or look away. Humans just want to love each other, be loved and live the best they can on the lush earth. Agitate, educate, organize, share power, know the truth, and get in touch with what's real.