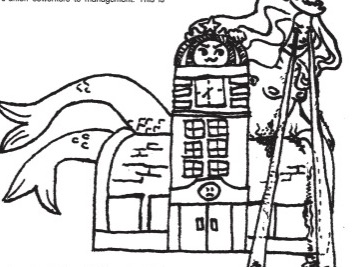 By Hound
Despite the small southern town I worked in, I was lucky enough to work with a crew of young, hip, and savvy baristas at Starbucks. We served cops cold coffee, since we weren't permitted to tell them to fuck off, took our "collective 10s" to smoke weed together in the parking lot, and we only got worse as the staffing crisis put more pressure on us. But these were the closers, and the gaggle of high schoolers we held under our wings. I was encouraged by a morning shift lead to report stores — especially independent stores — advertising anything that even smelled of Frappuccinos for copyright infringement. It happened to be one of his favorite past-times, he gleefully informed me. Good dog!
When I was first hired at Starbucks, I was told by another employee that she was happy to be working for a company that "really aligned with her values." I did not think that was an unfair assessment, and I certainly didn't know enough about her job history or her life to criticize her definition of "alignment." From the outside, if you believe the hype, and no brave soul has tagged your local Starbies recently, it seems like a pretty solid company. They're inclusive, diverse, eco-friendly! And they want to be your Third Place (home, work, Starbucks).
How does this measure up for the people who keep the stores running? It's estimated that the average Starbucks worker would have to work for over 100 years to earn what the ex-CEO, Kevin Johnson, made in a single month. I recall reading company memos in October of 2021, congratulating us for the uptick in sales and promising that the company was doing everything in their power to get us to a $15/hr minimum wage within "the next couple years." As if they were some mom-and-pop shop scraping the bottoms of their pockets to offer us pennies. Starbucks is supposed to be one of the better food service institutions to staff, but I had only recently had my wage increased to $12/hr, while the Jack in the Box down the street was advertising that impossible $15/hr starting pay.
How well can you trust those you work with? The seeds of dissent are already planted in your workplace. Long hours with short staff, telling the 15th oblivious crustomer that, yes, we are still out of Very Berry Acai Refresher Base. Your break room is claustrophobic, brightly lit, inhospitable to human life. Cigarette breaks just aren't long enough. You can't remember the last time you had two days off in a row, but somehow you're still struggling to afford your basic necessities. If day shift and night shift are fighting over scraps, when do we stop to ask, "Why are we only being given scraps? Aren't we supposed to be partners?"
"Partners" becoming partners — real, actual participants in the management of the company we're staffing. If Starbucks presents a set of values, it's about damn time they live up to them. The first ever Starbucks union was founded in Buffalo, NY in early December of 2021, after months of organizing. At the time of writing, there are over 140 Starbucks stores in the United States that have petitioned for union status. These stores are organizing through the Starbucks campaign of Workers United, an affiliate of the Service Employees International Union (SEIU). These organizations trace a long and shared history through other, historic union groups- from the International Ladies Garment Workers Union, to UNITE HERE, a combined labor effort of textile and hospitality workers. Now, a dedicated arm of Workers United fights for fair labor practices of Starbucks partners: Starbucks Workers United (SBWU).
Green-apron unionization efforts on the ground are being met with punitive action. SBWU filed a complaint to the National Labor Relations Bureau (NLRB) about the Starbucks corporation cutting 2 to 15 hours a week from labor organizing partners' schedules. For some, this puts them under the requirements for health and tuition benefits, for which partners must work at least 20 hours per week. On top of this, organizers are forced to find second jobs or terminate their employment at Starbucks to cover their cost of living. Workers who missed shifts during hospital stays are being punished months later, entirely unrelated to their organizing efforts (that's sarcasm). The #SaveOurStarbucks tag on Twitter is boiling over with firsthand accounts from Starbucks partners facing intimidation and coercion from company higher-ups.
Clearly, the union wave has Starbucks management scared shitless. Disgraced Kevin Johnson stepped down, setting his last day as April 4th, and union-buster Howard Schultz, the company's previous overlord, is stepping back into the ring. They've begun to contour their union-busting with a company FAQ, encouraging employees to vote "no" on union elections. The company tells several lies in their "informative" anti-union crusade. They threaten the loss of benefits for unionized locations (despite robbing partners of benefits and employment at this very moment in retaliation), insist that union partners will be unable to swap shifts or transfer stores, and encourages employees to report "annoying" pro-union coworkers to management. This is classic union-busting, depicting unions as entities that exist solely to collect their dues and drown out your individual voice.
Starbucks is far from the only company engaging in duplicitous PR campaigns and slimy anti-union action. Monopolies dominate our neighborhoods, and small business owners are not immune from gaming the same systems to bleed profits from their workers. Workers United is running, alongside the Starbucks Workers United (SBWU) push, campaigns to protect the rights of Lush workers, and manufacturers for Canada Goose (a Canadian outerwear company). The Global Lush Union and Canada Goose Unions are similarly fighting for fair wages, benefit protections, and a voice in the directions of the companies that they carry on their backs.
The Starbucks website claimes that their first guiding principle in response to Covid-19 is "Prioritizing the health and well-being of our partners and customers," which is funny, because back at my store in the eastern U.S., the manager willfully kept knowledge of Covid-positive workers a secret until two others on the night shift also tested positive. And then, for some reason, he sent the morning shift home, and forced anyone on night shift that was exposed to return to work as normal — even while their own Covid test results were pending. Sure, we had two paid sick leaves at the beginning of the pandemic — any following mandated isolations were to be unpaid leave — but this pandemic has been going on for over two years. Most of us, just in the course of working with the roiling public, have been exposed and required isolation leave more than twice. This is particularly true in states where you might find yourself the only person masked up in your local grocery store in the Fall of 2021 — well, you and the workers.
The process of sinking my teeth into this story has illuminated several blind spots in my prior union knowledge. My motivation sprung primarily from my piss-poor experience working for the 'bucks during the pandemic — working hard, thankless hours during constant supply shortages, all while combating the perpetual schism between openers and closers. Even if we, exhausted, desperate, starving, had any clue about the illegality of managements' decisions, we didn't have a clue how to address it. And that benefited the management alone. When baristas quit, that just means the shift leads would work entire weeks without break. And we loved our store. You can't pour that much sweat, tears, and, yes, blood, into a workplace without feeling some semblance of ownership. But the majority of my shift (since I was rarely a star of the morning shift) were young, either still in high school or nowhere near completion of a degree. Unions were a fantasy.
It seems an odd system to me that requires a workplace to opt-in to having their rights protected by a federal agency, but is there a better way to support ourselves and our peers today? I'm not qualified to say. I'm a loudmouthed, low-wage mercenary. I've scarcely lived in one place long enough to unionize, let alone see how that all shakes out. When a job starts to trouble me, I jump ship. It would be simple enough to wave it all away, but I've got comrades still working for the Siren. People I love. They are passionate, brilliant, creative, hilarious people, and I've seen them sucked dry by this company. For their sake, as always, I've got my focus trained on the SBWU socials. If the Worker's United track record is to be believed, we might finally be witnessing the power of service workers leveraged properly during this economic crisis.
We don't have to sacrifice our bodies and our lives to the meat grinder. No matter which way you play it, all things boil down to one fact: there are more of us than there are of them. I don't want to go "back to normal." I want to look in the face of this worldwide health crisis and ask, "How many people died for this economy?" Can any of us even afford a fucking place to live? How long before the government is trying to get us to reproduce faster, raise children we can't afford, to "correct" the labor shortage? Idaho just tried to pass a law that would sentence parents to life in prison for seeking gender-affirming treatment. In February, historically black colleges were flooded with bomb threats. It's hard not to see these disparate tragedies as points in a gigantic net, drawing closer. The leaders of our country, the wealth-owners and the policy makers in their pockets, want us tired, desperate, and scared. We need each other now more than ever.
I've got a new food service job out here in the Bay. I'm no longer working under the Siren, but the industry is the same. This new gig holds itself up as a hip and with-it sorta company, but a corp's a corp. Let's just say, this time, I'm thinking "unionize."