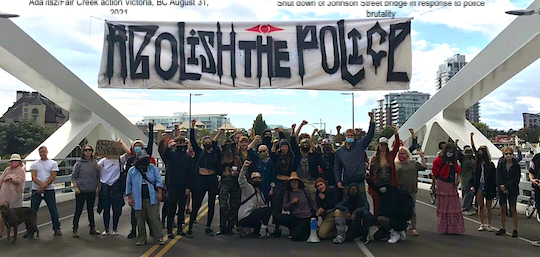 By some anarchists
The largest forest defense action in Canada continues at Ada'itsx (Fairy Creek) — a generational renewal of so-called British Columbia's infamous "war in the woods."
If you desire to participate in subversion of authority and widening a major social rupture, we look forward to seeing you here!
The majestic braids of the San Juan River delta flow into the Pacific Ocean on the southwest coast of Vancouver Island. This watershed and others here on unceded Pacheedaht and Ditidaht territories are home to everything from salmon to giant green sturgeon, and the biggest trees still standing in so-called Canada: the Cheewhat Cedar, the San Juan Spruce and the Red Creek Fir. Ada'itsx (pronounced "ah-dah-itch") is the last unlogged tributary of the San Juan, and a grassroots, anti-colonial land defense movement has maintained a blockade against logging company Teal Jones here for almost two years.
This ancient, temperate rainforest is high in biodiversity and carbon sequestration, and is an inseperable part of Indigenous land and culture.
Some stands exceed the biomass found in any tropical forest. In response to a militarized police invasion begun in May 2021, thousands of people joined the blockade movement locally, at numerous solidarity actions near and far, and were inspired to start similar blockades in their neck of the woods.
The Royal Canadian Mounted Police (RCMP) has always been a colonial paramilitary force, and recently, their Orwellian "Community Industry Response Group" (CIRG) has stepped up attacks on land defense movements. There have been media-friendly civil disobedience style arrests at Ada'itsx, especially in the first few weeks of the CIRG-led police invasion, but over time the police crackdown has become more arbitrary and hazardous. Wearing banned white supremacist "thin blue line" patches instead of badge numbers, the cops use extra-judicial "exclusion zones" to deny access to media, and illegally card, search, detain or arrest people, many without charge, often releasing them within hours nearby.
"Nonviolent direct action" in this context is a myth.
Blockading is economic violence. Some logging industry workers have lost their jobs due to the blockades. "Peacefully" obstructing the RCMP's invasion for month after month is economic violence against the state. Digging trenches in logging roads is economic violence in the form of sabotage. Offering one's self up to be beaten to a pulp by a cop or a logger while locked down in a trench is violent, to one's self and one's community. Blockaders voluntarily suturing their arms together to dissuade arrest is not only violent to themselves, but potentially to other blockaders and police via blood-borne illness.
Courageously, some land defenders are breaking free from the theatre of the absurd that is the cult of nonviolence.
Some folks have been resisting arrest, de-arresting comrades, pushing police as they push past police lines (using a tactic called "the blob" which is somewhat similar to the black bloc), holding steady at a blockade position as needed before vanishing into the bush before they can be arrested, etc. Strategically, gates have been locked, others have been cut free of their locks, and increasingly, the police themselves are the target of the action, whether it's a clandestine lock on the gate to their compound, or a blockade setup specifically against their vehicles. The brutality of the police has been met with relentless rebellion and fortitude that land defenders bring to the frontlines every single day.
The Ada'itsx blockade movement also has a deep understanding of the need for a holistic approach to resistance, with sanctuary spaces and aftercare services (such as counseling and physical therapies) freely available, and a broad spectrum of frontline and non-frontline activities that people from a diversity of abilities and identities can participate in.
Liberal nonviolence dogma still pervades much of local resistance culture. It contributes to deflection of resistance vs state forces to reformist diversions, such as ill-informed and/or misleading calls for police reform, "accountability", attempts without precedent to stop the police in the courts, and slogans that reinforce the carceral state like "lock up the real criminals" (ie. the logging industry and its captured politicans). The insidious notions that "bad policing" or "dishonest politicians" are to blame, obscure the reality that this colony's police and politicians are doing exactly what they've been mandated to do. They sharpen their knives and attack, as inequality and repression increase, resources are depleted and the planet dies.
The cops are the army, are the industry, are the government, are the predator, are the enemy, and this is nothing if not a war for our very survival… BC's perennial "war in the woods" is not just a catchy, metaphorical brand.
We hold the enemy accountable by defending the land, defending ourselves, and fighting back. We are accountable to ourselves when we realize that there is no such thing as justice, only liberation, and do what is necessary to make it happen.
For a diversity of tactics. For unmediated hostility against the state. For total liberation.
—
check out Creeker: vol. 1 — the first in a series of autonomous, anti-authoritarian zines of curated art, poetry, reflections and analysis from the frontlines of the Ada'itsx blockades. Grab PDFs for reading or printing at CreekerZine.wordpress.com!
frequent updates are posted on LastStandForForests.com, a public-facing campaign of this diverse grassroots movement.