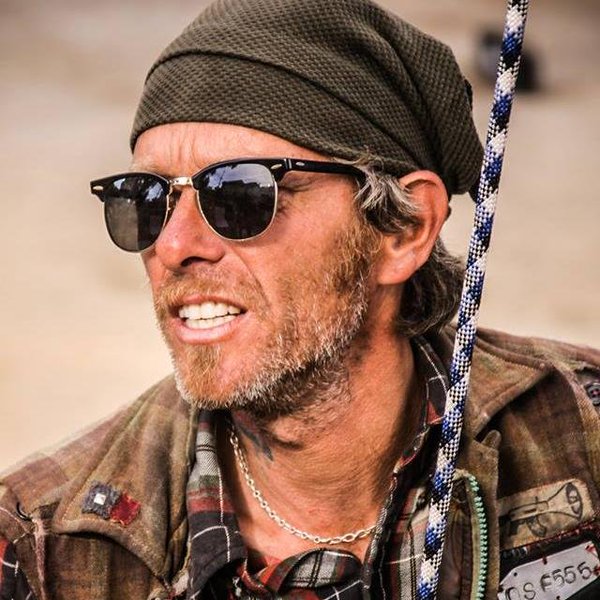 by Teresa Smith
Stephen Michael Clift, known as "Pirate Mike," prolific treesitter of Occupy San Francisco, outspoken member of Veterans for Peace, and a part of the Slingshot Collective, died in the line of duty on Friday, October 30, 2015. He was on a cross-country bike tour that he helped organize in honor of homeless veterans when he was struck and killed by a car in Texas. In his last video post on his blog, Mike spoke fondly about returning to San Francisco so someone could cut his hair, which had just been whipped into a wild mess as he rode through a New Mexico hailstorm. He glared back at his disheveled image in the camera-phone with amused disapproval.
…a Soldier for Peace in the battle to keep our planet alive.
Mike was someone who treated everyone like they mattered, especially the trees. His passion wasn't that bleeding heart liberal goo, but rather was marbled in wingnutty radicalness — he wasn't afraid to pound nails into oaks as he worked to save them, building forts with flags and verve. His vest was covered in patches, his body with tattoos, his laptop with stickers. He was a hacker, a pirate, a proud veteran who orated about the need to dismantle the military and also to care for our wounded and homeless vets. He frequently joined groups of folks who needed emergency housing, and together they pitched camps and cracked squats. He always had a good speech in him, and also knew how to pause and listen to what everyone had to say.
I met Mike at the Hayes Valley Farm Treesit in June of 2013. I was joined that day by a student photographer from Mills College, Brooke Porter, and the goal was to write an article about the place, which had just been renamed "Gezi Gardens" in solidarity with the uprising in Turkey. Brooke seemed pretty thrilled about the whole thing, but I felt terror in the pit of my stomach as we walked around the green, sunlit permaculture garden, plagued by post-Occupy-Shutdown PTSD flashbacks. Every time I see something wonderful happening in public, I feel the presence of the police now, as if they are just past the edges of my vision, ready to leap out and start gassing and hurting everyone again. I sat down and grabbed my knees and breathed for a while, and nearly left the treesit, but then Pirate Mike introduced himself. Mike was grinning and ridiculous (yet awesome!) in his patch-covered military fatigues, all big handshakes and serious nods with that glimmer in his eye. If my catholic mom had been there, she might have proclaimed, "this guy's an authentic saint!" But what I believe is that Pirate Mike was someone who had really learned to love himself, which is pretty much the bravest thing anyone can do, and that's what gave him the courage to be so present with people, which is probably why he seemed to glow sometimes (ask around, I know I'm not the only one who noticed), and why something that I might call "meaning" seemed to sprout organically from Mike's simplest gestures.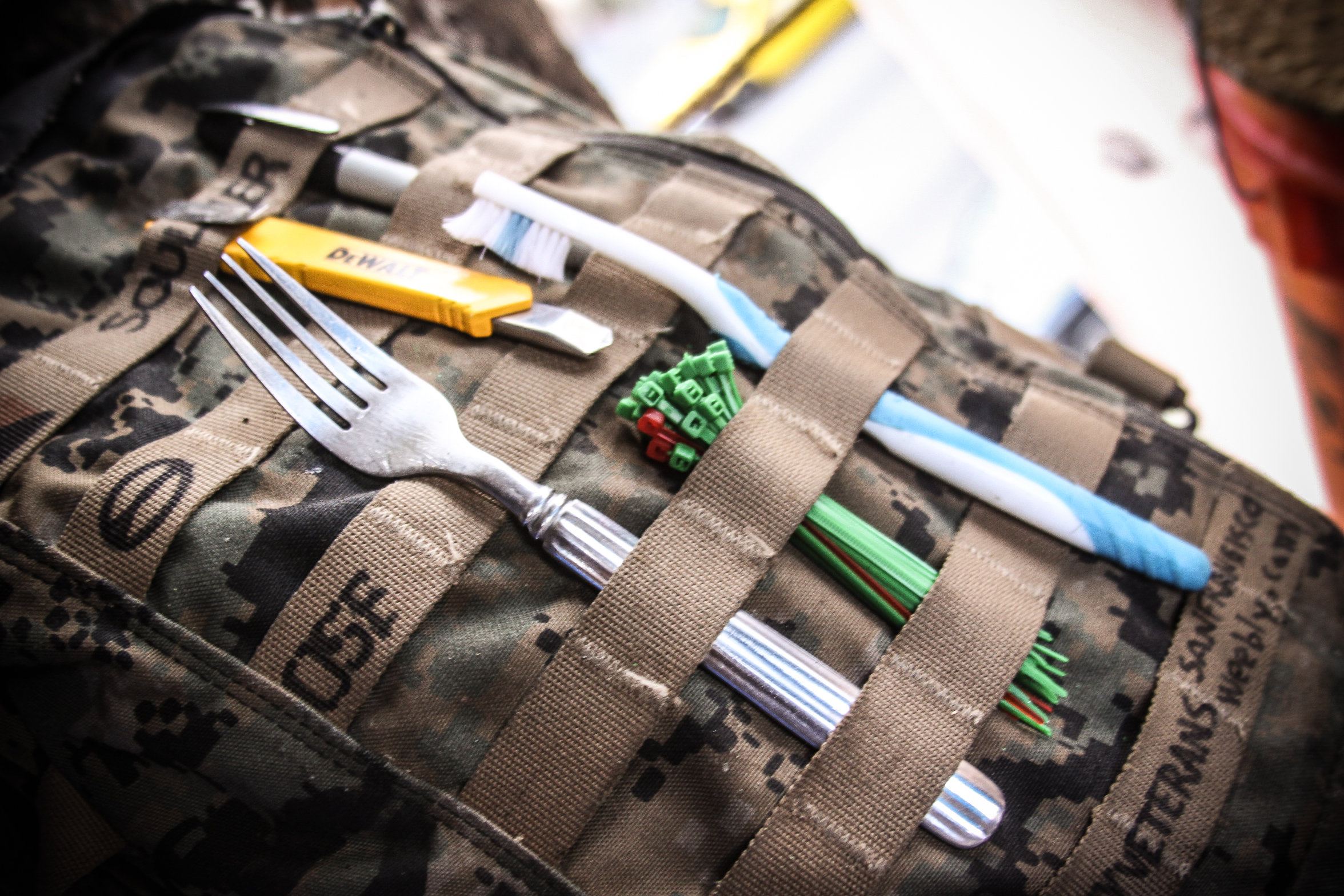 Mike gave us the grand tour of the 2.5-acre farm, which was buzzing with artists and musicians and radicals, and there was even a library and a kitchen, one group was making a music video with a saxophone player, while another group was putting sprouted plants into the ground. One young man was shoveling sod in big bunny slippers. Mike knew everybody's names, and he also introduced us to the treeforts, taking us to their bases and pointing out all the neat construction hacks he'd used to make them. At one point, I turned away for half a minute to talk to some of the freshly planted vegetables, suddenly I turn back to see Brooke strapped into a harness, flying up into a tree! Mike was holding the rope, hoisting her up—could there be a better way to spend a Tuesday?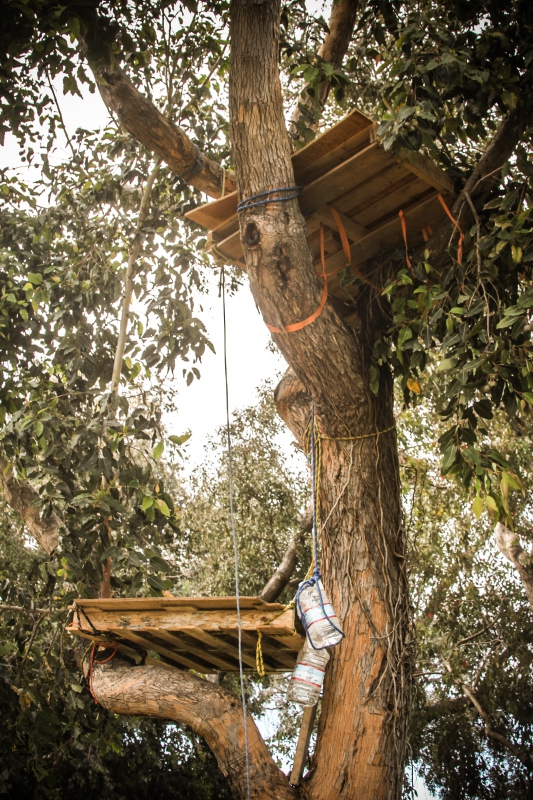 Yeah, sure, a lot of liberals in San Francisco got really huffy about that occupation—"We promised to give the permaculture farm away to developers, and now these radicals are making us look bad!" But Mike saw himself as a Soldier for Peace in a much bigger battle, the greatest battle known, the battle to keep our planet alive. Mike understood that every time we give up a local, permaculture farm, we are handing our food production over to corporate growers who are killing our oceans by dumping nitrogen on their crops, and pumping CO2 into our atmosphere. Mike understood the importance of holding on to every piece of land where local food might be grown.
Two days later, the Department of Homeland Security raided the treesit on behalf of Wall Street real estate corporation AvalonBay (NYSE: AVB). The 100-year-old trees were felled and some 45,000 square feet of farmland was destroyed to make the real estate commodity. A book Mike had written about his life was taken by Homeland Security during the raid, and never returned. Now I really wish I could get a hold of that book. I guess that's just a grief reaction. I want to see him again. I really want him to emerge from the sidewalk crowd and say "Hey puffinstuff!" and give me some of his weirdly intimate random life advice.
"Veterans from all walks of military life need to step up their duty and reclaim some fresh living. Our hearts may still weep, yet our stories can inspire and our hands can teach."
~ Pirate Mike
Mike was good to have at urban farming meetings. He didn't always stay on topic (he tended to veer towards "so when do we start building tree forts?"), but he also had a knack for taking emotional stack, for offering subtle nods of encouragement to the people who seemed to be struggling to speak. As an anarchist, he helped remind us to make space for each other, to hold on to our basic humanity even during the most tyrannical of consensus meetings (like the ones that get taken over by those with the most privilege? Yeah, those ones). Mike would check in with people if he thought their feelings got hurt during a meeting, and would offer these pep talks, like a gentle drill sergeant, about how we have to stay in it for the long haul, sure sometimes it's good to go cool off, but we can't stop working for the things we believe, no matter how fucking obnoxious other anarchists can be.
In spring of 2015, Mike showed up at a Slingshot meeting with an article, Military Veterans and their Role in Revolution, which we ran on the front page. In the article he wrote: "Veterans from all walks of military life need to step up their duty and reclaim some fresh living. Our hearts may still weep, yet our stories can inspire and our hands can teach. If we can provide some safety; some collective wisdom, learn from what it means to be under constant stress and hungry, and how through team work and dedication we were able to overcome our challenges, we can become an invaluable asset to the "revolution"."
After Mike was killed, newspapers across the country printed the announcement of his death, a testament to the many, many friends Mike made everywhere he went. He was never just passing through; Mike was always at home. Accounts of his adventures can be found at his blog: occupyveteranssanfrancisco.weebly.com.
How do we move forward without our friend? How do we honor him, and keep alive all the things he gave us so freely, simply by being himself in public?
Last time I saw Pirate Mike was in early spring of 2015, I was standing in line in front of a bank on Shattuck Ave, trying to figure out my life, when suddenly he was there with his gear-laden bicycle, and we talked for twenty minutes, and he was telling me about all the other places I could easily be: hitchhiking across Europe, tree-sitting in Oakland, anywhere but a place that is boring you! He orated passionately about the necessity to live the most full and authentic life possible, about the lengths one must go to at times to keep their soul alive.
I know I'm not the only one he reached, that so, so many people are feeling this loss right now. How do we move forward without our friend? How do we honor him, and keep alive all the things he gave us so freely, simply by being himself in public?
Urban adventurer. Loving provoker of lost girls and boys. A man ready to grab a stranger by the hand, strap her into a harness, and hoist her into the illegal occupation of a tree. Goddammit Mike, I'm going to miss your silly face, your thoughtful interjections, your inability to follow stack, the light you brought to a community on the edge of darkness. Occupy the afterlife, my friend. If it turns out there's a heaven, you better be squatting the shit out of it.
Above: Mike's last video post to his blog.
* * *
Share your memories, stories, and photos of Pirate Mike at the online memorial.