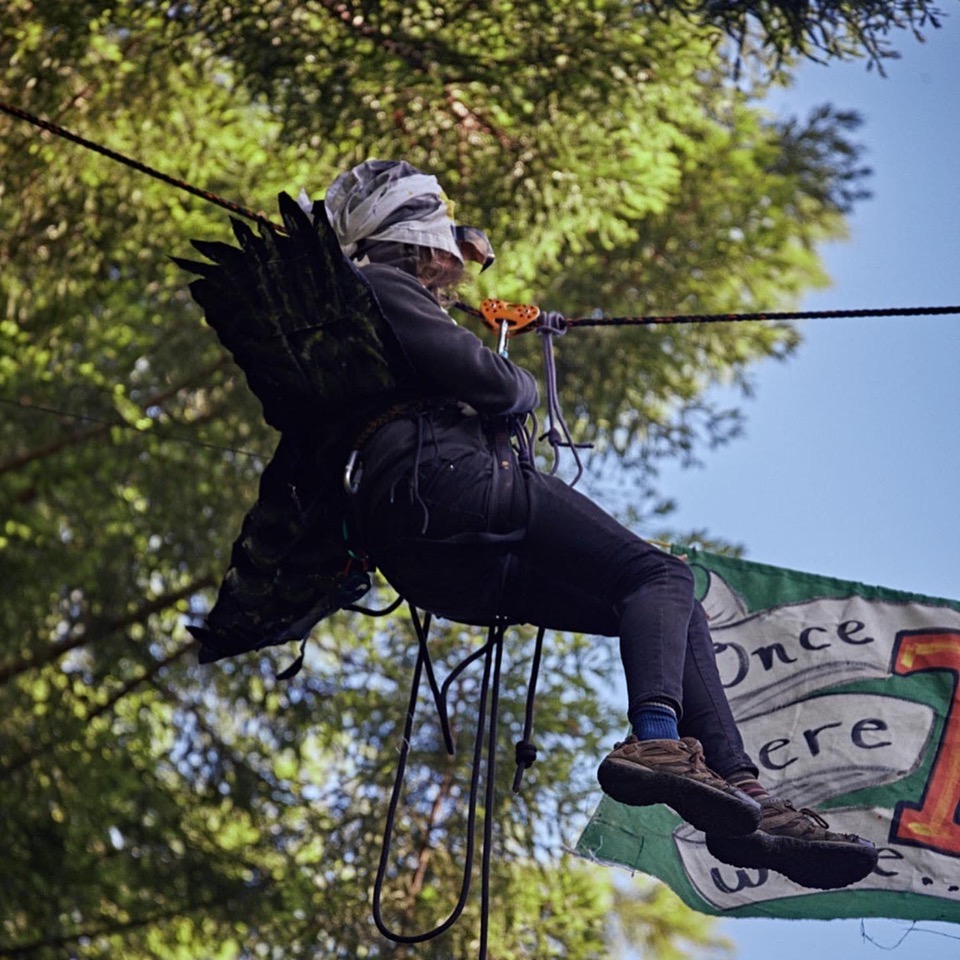 So many aspects of our lives ground to a halt last March as the first wave of covid swept the US. One thing that hasn't slowed during the pandemic: industrial logging. Here in the Pacific Northwest, the timber industry spent 2020 logging full speed ahead, and folks across the bioregion have been busy resisting. Read on for spicy dispatches from the forested frontlines.
Lichen It Up Here
By a flying squirrel wearing a fanny pack
Comradely greetings from the temperate rainforest canopy on the coast of northern California! We're Redwood Forest Defense, an affinity group of tree-climbin' wingnuts who have been living aloft for the last year to prevent two groves from being clearcut by a billionaire-owned corporation.
Back in March of 2020, we were visiting a grove that treesitters had defended from 2012 to 2017, and we found fresh stumps and a chainsaw on the ground. We climbed the closest tree, stopped work, and we've been here ever since.
The forest that has become our home lies within the Indigenous village of Tsurai, on ancestral Yurok territory. This forest is second growth, a landscape developing toward maturity after being logged for the first time several decades ago. This is the next generation of old growth in the making – and it's actually the rarest type of redwood forest. Of the 2 million acres of intact redwoods that were thriving on the north coast when settlers arrived, less than 5% is left, protected in parks. The vast remaining portion was either lost to development or is being managed, mostly by massive corporations, as monocropped tree farms.
Enter Green Diamond Resource Company, a "family business" and the fifth largest landowner in the US with over a million acres of forest under their management, mostly in the Pacific Northwest. Their plan for all "their" stolen land is short rotation clearcuts – returning to a given patch of forest every 45 years with heavy machinery to completely denude the landscape. In a mixed forest like this one, where several species of conifers and hardwoods commingle, Green Diamond's practices involve cutting literally everything, including the less marketable species like alder and spruce, which are then burned in massive piles. Afterward, the area is replanted with a redwood monocrop and treated with herbicides to discourage competition. We wish we could say this is exceptional, but it's actually the norm for industrial forestry here in the Pacific Northwest, and all over the world.
Of course, treesitting is nothing new in our area, and we are grateful to be surrounded by elder activists and the intact forests that they protected through direct action, litigation and advocacy. One of the paradoxes of forest policy in the state of California is that generations of forest advocates have put on the books some of the best environmental regulations in the country, but there is so little enforcement that corporate Big Timber is getting away with murder – both on private timberlands and in state and national forests. That's the case here, where these forests provide habitat to creatures like the Pacific fisher and northern spotted owl who are headed for extinction because of industrial logging, and who the feds continually refuse to protect under the Endangered Species Act.
This is where direct action comes in. When all the public comments have been ignored, the lawsuits have failed, the politicians aren't listening and the timber lobby is cackling with glee as the heavy machinery crunches over the forest floor, sometimes you gotta just get in the way. We're now holding down two adjacent tree villages, protecting about 20 acres between them of the largest trees and best habitat in the immediate area.
In July and again in October, our defenses were put to the test when Green Diamond showed up to log. We responded by holding strong in the canopy and raising additional treesits to block road construction into the harvest units. Green Diamond was hands-off toward us, never calling the cops, and hiring half-assed security who didn't prevent resupply, but they treated the forest with no such consideration. We grieved from on high for weeks as their heavy machinery flattened the landscape and the trucks hauled away what had been a living, breathing ecosystem. Witnessing the clearcuts is deeply saddening, but when I enter the treeline and know that the trees that still stand are there because of our presence, I am filled with purpose and gratitude.
Putting our bodies on the line can only protect a small area, but we are honored to be one of many thorns in the side of the global machinations that sacrifice forests for profit. Defending this place is a humanizing experience. Each ascent into the canopy is both a reminder of our smallness among giants and a reminder of our power to fight back against the cold logic of capitalism that threatens life on earth.
If you want to get involved, contact us. We host climb-trainings regularly and welcome local and faraway support and engagement in many forms, including but not limited to actually treesitting.
Email: redwoodforestdefense@ protonmail.com
Insta: @redwoodforestdefense Website: redwoodforestdefense.org
The Chameleon Blockade
By the South Sound Forest Defenders
In late September forest defenders of the South Salish Sea region launched a blockade in the so-called "Capitol State Forest," which is the traditional territory of the Chehalis, Quinault, and Nisqually people and is currently under the colonial management of the Washington State Department of Natural Resources (DNR). The forest that the blockade protected was part of the "Chameleon" timber sale. Chameleon was auctioned off by DNR to Murphy, a logging company with offices and mills in Washington and Oregon which has been gobbling up many of the large timber sales on DNR land in this region.
Any observant visitor to Capitol Forest can attest to the destruction done by nearly 200 years of colonial extraction, first under the ownership of private timber companies and now under state management. Many folks have stories of visiting their favorite foraging or hiking spot to find that the forest has been callously clearcut. Rather than accepting the state narrative that the forest is simply a 'necessary' sacrifice-zone to fund schools (and cops and prisons), or the mainstream environmentalist notion that second-growth is not worth protecting, forest defenders decided a chance for this late-successional Douglas fir forest to grow was worth fighting for.
Utilizing an infernal contraption likened by some observers to an umbilical cord, an antennae, or "that scene from Alien," forest defenders blocked the main road into the unit with a car that was anchoring a tree-sit in a nearby 100+ year old Douglas-fir. The blockade was erected before further work on the road had begun in the hopes of preventing access into the forest for future logging. If anyone were to attempt to move or mess with the car blocking the road in any way, the tree-sitter in the nearby platform could have fallen and risked serious injury or death.
In the week that followed, the blockade was honored by the presence of Protectors of Salish Sea, Red Road Rising, and many other community members who were disturbed by the ongoing ecological devastation perpetuated by DNR. A ground camp meant to support an expansion of involvement along with the tree-sitter began to flourish. However, about a week into the blockade, the camp was raided without warning by four different agencies including Thurston County Sheriff's Office, the Washington State Patrol, the State Fish and Game Department, and the Washington State Department of Natural Resources. The two forest defenders on the ground were briefly detained and then released and DNR cops brought in spotlights and a generator in preparation of an extended siege of the tree-sit.
In the final days of the blockade, DNR cops kept the tree-sit under 24/7 surveillance and prevented friends and supporters from delivering necessary supplies to the tree-sitter. Folks continued to show up and voice their support for the blockade as well as their disapproval of DNR's ecocidal practices with almost-daily noise demos, prayers, and songs from a nearby road that could be heard from the tree-sit, led mostly by Red Road Rising and Protectors of the Salish Sea.
Wet and cold from the first big PNW autumn storm and deprived of the warm supplies DNR prevented them from receiving, the brave tree-sitter came down on October 11th and the blockade was subsequently removed. As of January, forest defenders learned that the forest where the blockade took place was in the process of being clearcut.
The grief of not being able to save the forest that folks had grown to love and call home for a couple weeks has been powerful, but the spirit of forest defense is as alive as ever in this upper-left pocket of Turtle Island as the DNR continues to sell off critical forest to the highest bidder, undermining the survival of future generations of forest dwellers, river critters, and all who reside in the spaces in-between, above, and below.
The blockade inspired a new group of forest defenders to continue taking action together, it provided an opportunity to form affinities and relationships with local Indigenous-led groups, and it has hopefully inspired others to take action to protect the places that they love, whether those places be pristine old-growth or second or even third growth forests that, given enough time and respect, could support complex, mature ecosystems.
The blockade is dead, long live the blockade!
To stay up-to-date and to get in touch: Instagram: @southsoundfd Email: worthmorestanding@protonmail.com
The Rainforest Flying Squad; A New War in The Woods
By Joshua Wright
After two long decades, the war in the woods is back on, and not a moment too soon. British Columbia is currently clear cutting old growth forests at a rate of over 150,000 hectares per year, and with less than 400,000 hectares of what is considered to be "large tree" old growth left, the timber beast is on track to annihilate the last of the region's ancient forests in a matter of years. The government said that they would act and they lied. NGOs have been petitioning for decades and they have failed. The activist community has stood paralyzed. Until now.
The 5,150 acre Fairy Creek Rainforest on Pacheedaht Territory is the largest unprotected old growth forest on Southern Vancouver Island, containing the only intact watershed in the region outside of a park. In summer 2020, the Teal Jones Group submitted plans and contractors began road building into the headwaters of Fairy Creek.
I had been watching the region via a dystopian satellite imagery service that allowed me to get up-to-date images of Fairy Creek from my home in Washington State. I saw the road building, and a friend put me in touch with a group of activists, veterans from the war in the woods, and days later we set up a blockade. In response, the logging contractors removed their road-building equipment from the mountains around Fairy Creek, and days later we shut down another logging operation, then days after that another. Thus the Rainforest Flying Squad was born. For over six months, with the invitation of Pacheedaht Elder Bill Jones, we have been playing a game of cat and mouse with the industry, shutting down their road building, letting the company remove their equipment, following them, then shutting them down at the next place they try to destroy. What we want is simple: An end to all old growth logging immediately.
We currently hold down two blockades and a watch camp. We've prevented logging and road-building in over a dozen ancient forests, we've prevented the logging of Fairy Creek, and stopped road-building hundreds of feet before it reached an ancient yellow cedar tree estimated to be up to 2000 years old. Close to 1000 people have visited the blockades, and we have big expansion plans.
Once the snows in high-elevation old growth forests melt later this spring, we expect the industry to attempt one last free-for-all and seek to liquidate as many forests as they can before the government yields to our pressure. We will not let that happen. It's time that British Columbia had its own Redwood Summer. A Cedar Summer during which we shut down all old growth logging on Vancouver Island and beyond, but to do that we need people. A lot of people. This summer will be our last chance to save the last fraction of our ancient forests, forests so magnificent that they seem unreal, forests that store more carbon than any other ecosystem in the world, forests with more biodiversity than any other ecosystem on earth. This is our last chance; clear your summer schedules and find a ride to Port Renfrew BC, you'll find us there.
Contact; @fairycreekblockade on Instagram and Facebook Email: rain4estflyingsquad@gmail.com
~~~~~
What will 2021 bring for PNW forest defense? You can bet that Big Timber is gonna keep trying to destroy the world's forests and climate, but all up and down the Pacific Coast, affinity groups are organizing, monitoring timberlands, and sharing skills. The above mentioned campaigns are still active, depending on when you pick up Slingshot. More of the same is brewing elsewhere. Here's what we know of:
The current iteration of longtime Eugene group Cascadia Forest Defenders is gearing up to fight post-fire logging this year after another record breaking fire season. Climb trainings and events are being held regularly.
Instagram: @treesittersunion Email: treesittersunion1312@protonmail.com The Blue Mountains Biodiversity Project monitors and surveys national forests in eastern Oregon and, with data collected by volunteers every summer, is able to effectively challenge timber sales in that region. Survey with them! bluemountainsbiodiversityproject.org
A shout-out is due for the nonprofits who are working through legal realms to protect these same places. These fine folks spent the last four years suing the shit out of the Trump administration as the feds attempted to gut environmental protections, but they aren't placated by typical lib greenwashing. As masked, peanut butter eating woods rascals, we value and respect their paperwrenching. Much love to the Environmental Protection Information Center, Cascadia Wildlands, and The Center for Biological Diversity.