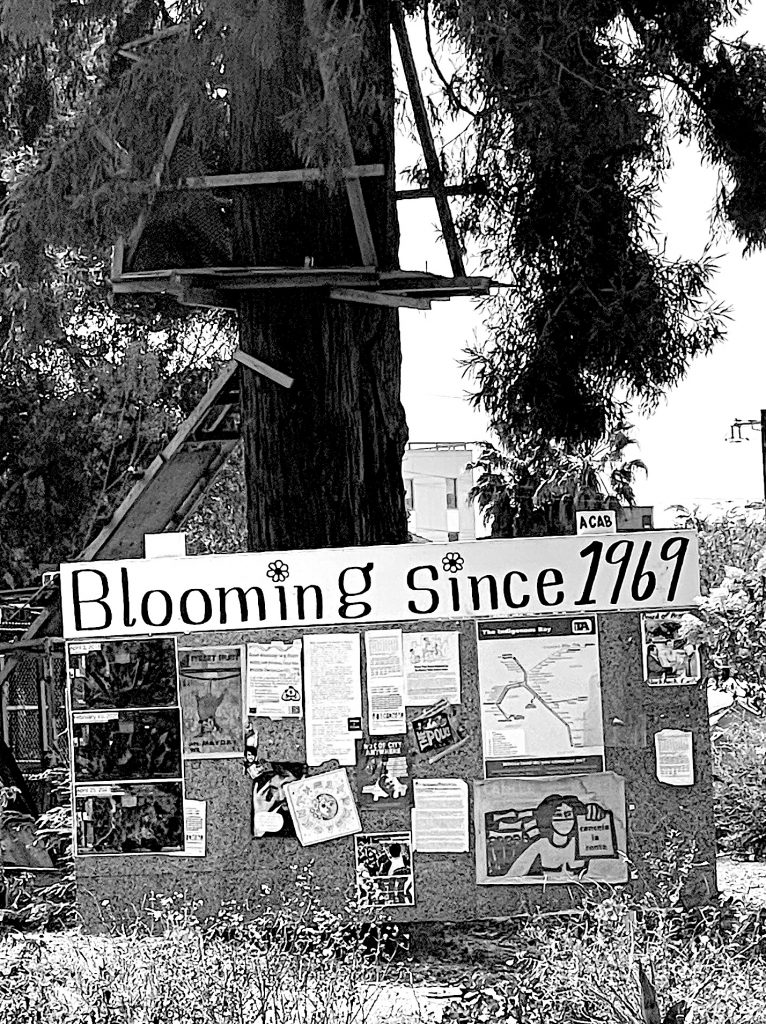 By JP, Animal Cracker & Carrion Baggage
People's Park in Berkeley is still free — a wild community commons surrounded by a grim, privatized, dying empire — beckoning us to join in its defense this winter and beyond. The University of California (UC) has been trying to destroy the Park since it was created in 1969 when thousands of people seized vacant UC land to build something beautiful outside the system. The Park has never been just a nostalgia trip — it nurtures a living grassroots, DIY counter-culture community.
UC's latest gambit is to build a 1,100 bed, $312 million dorm on the land. After last year's police attack during which UC police cut down 47 trees in the 12 hours they controlled the Park, Park defenders got a court stay against further construction through a CEQA lawsuit. In response, UC officials and assembly member Buffy Wicks got the California legislature to pass AB 1307 specifically to overrule the Court's decision. Governor Newsom signed the law in September — he is auditioning for a presidential run.
According to Park defenders: "With the new CEQA laws created by AB 1307, the stay preventing People's Park from destruction could be lifted at any time. That means we should be planning and preparing for land defense. There are several affinity groups that have specific tactics for Park support or you can form an affinity group with friends you trust and would like to work with." UC is most likely to attack when students leave for winter break in December and January.
Beyond playing cat-and-mouse with UC's police and tearing down their fences, now's the time to visit the Park. For however long. If it's too much to bear being there or your time is strapped then go there anyways even for a few minutes. Bring something positive: a friend, plant life, art, a revolutionary idea. If you can't be in the Park, bring it up in conversation with a friend, when you plant life, make art or have a revolutionary idea. The Park is both symbolic and a real place where the movement grows the new world.
The City and the University have spent years trying to isolate the Park by framing it as dangerous — filled with the homeless (read people of color), drug dealers, ex-cons — people who should be pushed out of sight. Treating humans like trash and having some containment zone where the wealthy beautiful workers don't have to see them — or drugs, wealth inequality, bad health, mental illness, bad teeth, alcoholism, bad jokes, bad music choices, death, bad fashion, bad attitudes. All are present at the Park — and in society. The hippies and students created the Park and we have maintained it to engage with these problems. Our oppressors have instead created toxic waste, artificial intelligence and promise a life of meaningless work while they endeavor to get us to fight their fucked up wars against people of color worldwide, the Earth, the Park, Russia, Fentanyl — you name it.
As you navigate the Park these days, it's important to be respectful of everyone drawn there, and to also think strategically towards building a world other than the current dystopian hellscape. Even then, even with all the suffering that has washed ashore in the Park during these strange times, wacky 1960s-era autonomous zone vibes continue to emanate from the space, reminding us all of those Situationist dreams to "seize the means of leisure," as Mario Savio once put it, in his lesser known speech about People's Park, in which he also claimed the space is the starting point of the Age of Aquarius.
Some great ways to help: Text SAVETHEPARK to 41372 to get on the text message bulldozer alert list. You will only be texted if there is an urgent call to defend the Park. Every time they try to come take the Park, we can all show up and fuck shit up.
You can also follow the Park news at various student-led websites that have sprouted up, including PeopleSpark.org and DefendThePark.org. Have eyes on and in the Park. If you see anything that indicates fencing call 510-229-0527 immediately.
Take heart, Park Defenders! There is much still left to defend. The flag of the Resistance still flies.
Forthcoming Podcast Celebrating Black History of People's Park
Keep an eye out for Bella Volz-Broughton's forthcoming podcast, "Black Space: An Unknown Black History of People's Park," which she announced the launch of at the UC Berkeley Black Studies Collaboratory in September 2023. Video from this scholarly event in which she spoke alongside Dr. Paul Lee can be viewed here: youtu.be/G662UQwaH3U. It is great to see more attention being directed towards Black-led efforts in the co-creation of People's Park! (H-Cat)