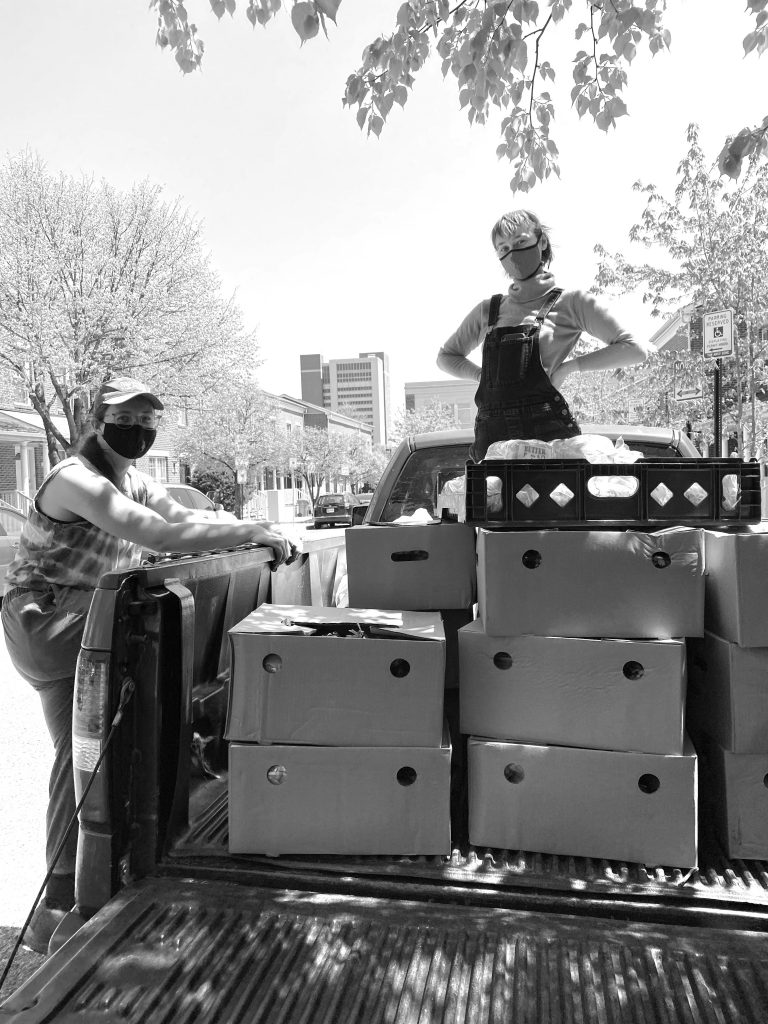 By Kat Ackerman
The writer and organizer Dean Spade defines Mutual Aid as "…collective coordination to meet each other's needs, usually from an awareness that the systems we have in place are not going to meet them" (Mutual Aid). The second part of this is really important. Mutual aid arises with the shared understanding that needs are not being met because of highly intentional and specific political and systemic decisions. Poverty is not an accident, and the nonprofit industrial complex will not set us free. Mutual Aid strives to do something different; it meets those needs directly and is always a mutually beneficial relationship. It's about taking care of each other, and this can come in many different forms.
The photo I've included is one of my two comrades, Molly and Juna. In the photo you can see we have a truckload of food we are getting ready to distribute. This was a food drive that our mutual aid group (Abell Mutual Aid located in Baltimore) was co-organizing with a public housing community in West Baltimore. This is an example of organized mutual aid where we have an established organization that works to build relationships, share resources, and hold regular meetings with like-minded neighbors. There are many different mutual aid organizations that already exist, looking into finding one in your area is a great way to get involved. If there are none, start your own! An important aspect of mutual aid is that it starts on a personal level. It starts with getting to know your neighbors, what resources you or they can share, and letting them know that you have their back. This shared camaraderie meets more than just material needs, it can transform feelings of safety, care, community, and organized resistance. I believe tending to these relationships and experiencing what it feels like to be loved by your community has radical revolutionary potential.
I was recently asked why I got involved in mutual aid. My answers were the same as they have always been, it's the end of the world and we need to take care of each other, it is a part of my politics, and a natural (human) response to crises. All of these things are very much true, and they all center me and my orientation in this moment of time. However, there is a piece of mutual aid that I've failed to name, but one that I feel deeply through the most sacred parts of my body.
I first learned about love, or a version of it, from my parents. Then I learned about it through my childhood friends, and then when I was sixteen, bell hooks taught me about love in ways that shattered and comforted me all at once. bell hooks defines love as, "the will to extend one's self for the purpose of nurturing one's own or another's spiritual growth. ' Love is as love does. Love is an act of will–namely, both an intention and an action" (All About Love). This definition felt truer to me than anything I had ever read or heard before. At that moment I started to understand where love was lacking or lying in my life, and I was able to affirm and follow the parts of myself that had a deep longing to love and be loved. Feeling actual, active, and intentional love and recognizing it as such changed my life.
Mutual aid is A LOT of things, but a part of it is love. Love for yourself, your comrades, your neighbors, and the earth that we live upon. This idea of "mutual", mutual care, mutual love, mutual respect. That isn't the love I was always taught about, but it is the love that I needed. We take care of each other. We are deeply invested in each other's health, safety, fulfillment, and growth. We know that by teaching each other to love we are creating, together, the world we are trying to build. I've learned so much from my time sharing resources, ideas, conversation and building together with my neighbors in our mutual aid. Whether it be organizing actions, a food drive, or coming together to help a friend and comrade move, I will be forever grateful for the lesson in love I am continuously being taught. It is sacred, transformative, and life-giving. It is the closest thing to embodied politics (embodied liberation) that I can imagine.
By participating in groups in new ways and practicing new ways of being together, we are both building the world we want and becoming the kind of people who could live in such a world together
Mutual Aid by Dean Spade