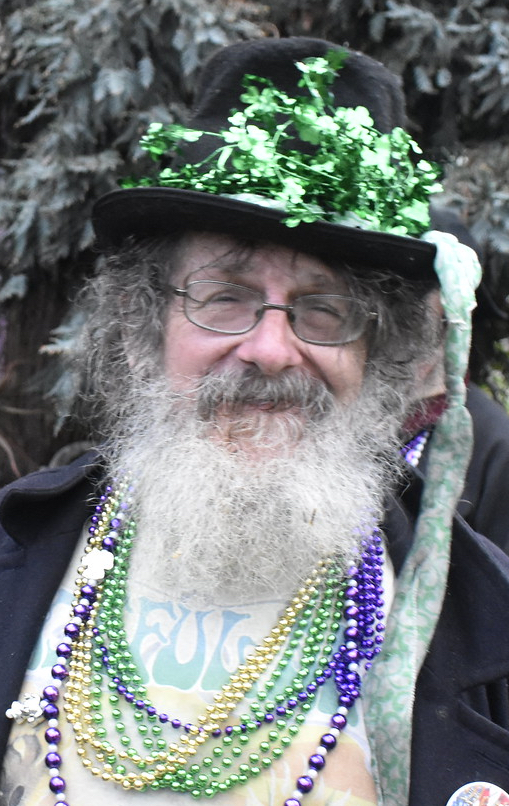 Michael Diehl — a proud Berkeley wingnut in the finest way — was hit by a car and killed September 29. His death leaves a huge gap in the world and hundreds of friends in tears. Michael lived life totally on his own terms devoted to freedom, art, music and the underdog. He had a unique style which he applied in a variety of counter-cultural contexts — the Berkeley Free Clinic, 924 Gilman Street, People's Park, OTO temple / Thelema Lodge where he was a priest, as a DJ at Free Radio Berkeley and Berkeley Liberation Radio, as a wise and calming street-level mental heath healer, an artist, a resident of several alternative households including Oz house, stalwart of Berkeley Mardi Gras and a most remarkable dancer. He wrote and did art for Slingshot and he was a frequent presence at the Long Haul where Slingshot has its office. In 2006 Slingshot awarded Michael the Golden Wingnut award for Lifetime Achievement. (see Issue#90) When asked why he deserved it he quipped "Because i'm crazy."
Around Berkeley the term wingnut applies to odd people and it can be both loving and a putdown. Michael was the good kind of wingnut. He was humble and giving to others and the community. Born in Massachusetts in 1955 where he was too young to be a Hippy but felt the sea change. He had a short stint at Antioch College where he was a part of a Gestlat Group and earned the nick name "Dancing Bear." He moved to the Bay in 1977 during what he calls "The Summer of Hate." He self-described himself about that time as being "Berkeley's first Crusty punk. I had spikey hair and a sleeping bag and was living on the streets." Michael was homeless on-and off throughout his life but largely lived collectively.
Michael was an activist and founder or core-member of several community projects that directly address the damage created by capitalism. He started the Peer Counseling Collective which provides alternative mental health services through the Berkeley Free Clinic. He was an early proponent of Radical Mental Health. He was a compassionate listener not only during office hours but on all fronts. A lot of his street-level activism was for the poor, homeless and those with mental issues and in the throes of a crisis. He was good at it because those on the streets related to him as one of their own.
Michael lived in a complex stew of opposites. Spiritual yet intellectual. Anarchist yet civicly involved. His deep fascination with Tibetan Buddism, WICCA, Paganism was tempered by a daily reading of the NY Times.
In the late 1980's he joined the all-ages, volunteer run punk club 924 Gilman when it first opened. He joined the art committee painting murals on the blank walls but quickly found himself as the Head coordinator for a two year stint. He worked to make it a space more than just for entertaining people. He helped make it a collective and a non-profit. He fought off abuse from Nazi Skinheads and when YUPPIE neighbors and the city wanted to close Gilman down, Michael helped organize 150 punks to show up to the city zoning commission meeting. He also brought his gentle touch to the club making it welcoming to people who didn't fit in. He would put on art shows and book unusual music and he constantly made iconic cut & paste fliers that were plastered all over town. The club was under financial hardships at the time of his watch so he responded by holding a magic ritual to make the club solvent. Not only is Gilman still here today but "100 clubs bloomed" globally as Michael proposed in one his manifesto fliers.
Michael did a series of benefit shows in support of People's Park activists facing a frivolous lawsuit by University of California and never stopped defending the Park against development. He worked with Copwatch as well to try to limit the police abuse he saw on the streets that he knew so well.
Michael was a DJ for unlicensed Free Radio Berkeley 104.1 FM in 1995, and continued as a DJ when FRB became Berkeley Liberation Radio where he was known as DJ Adversary.
"Michael was a man with a big heart who had few earthly possessions yet gave constantly of his time and effort to help others. He was a soulful socialist who lived his life in an uncompromising way true to a heartfelt revolutionary joy.